Thanks for your purchase!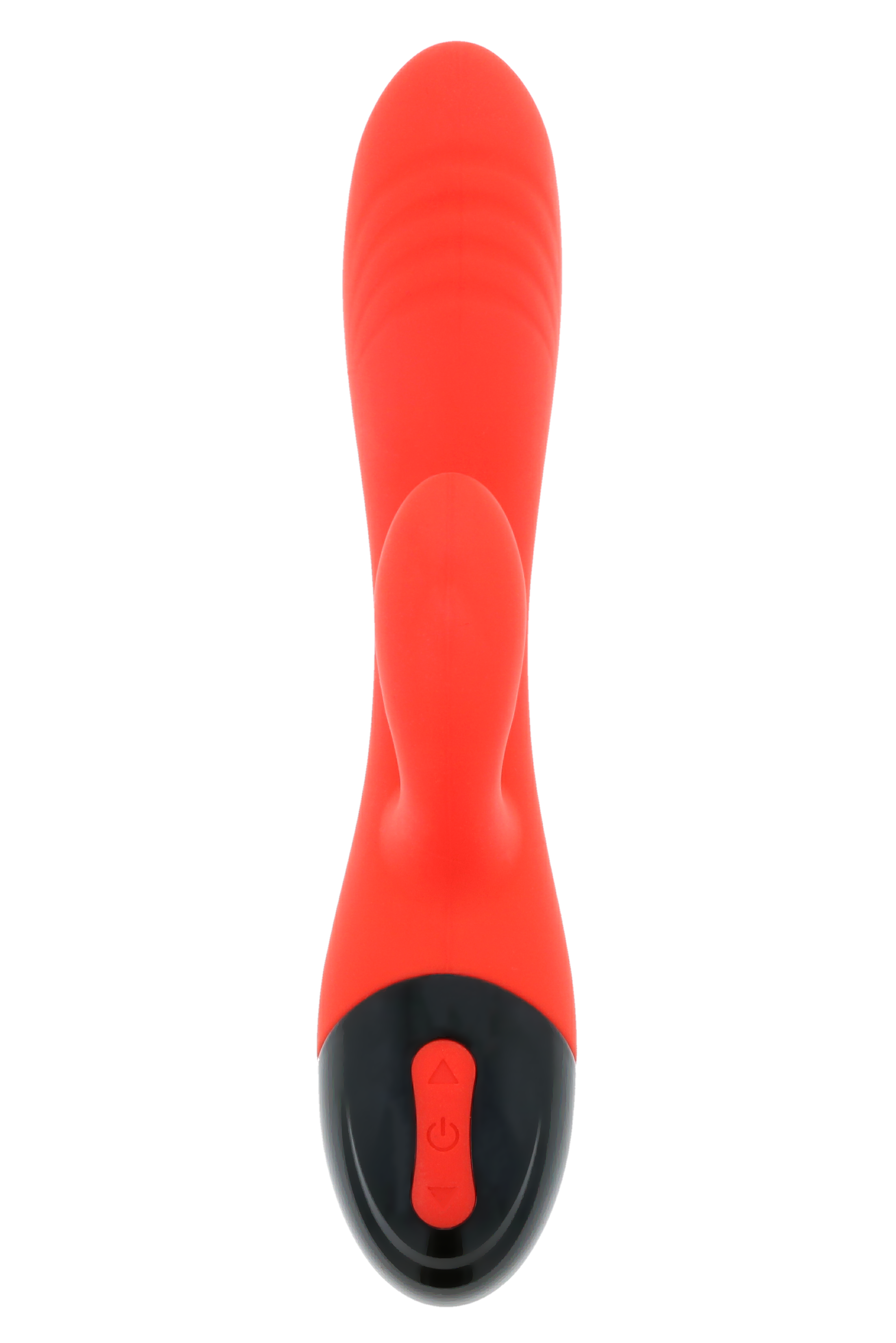 We hope you're pleased with your new vibrator.
Before using Rouge La Vie, please make sure that it is fully charged.

Instructions
To turn Rouge La Vie on, press and hold the "On" button for a few seconds.

You can cycle through the 8 various patterns by pressing the "On" button.
Change the intensity of each pattern using the up and down arrows.
Turn on Orgasm Mode by pressing and holding either the up or down arrow for a few seconds. To exit Orgasm mode, just hold the up or down arrow again for a few seconds.
The lights on the vibrator will illuminate to the pattern that is selected.
Press and hold the "On" button for a few seconds to turn off.

Charging
To charge Rouge La Vie, simply plug the changing cable into the "DC" charging port hole. Once fully charged, Rouge La Vie's lights will stay lit up.
Cleaning and Maintenance
1) Ensure the device is thoroughly cleaned after every use. Wash with warm water and soap, and then use hot water to rinse. Do not to get the lower end of the vibrator wet (near to the buttons) as this can damage the device. Do not use harsh chemicals or acidic cleaning chemicals.
2) Dry with a clean, lint-free cloth or towel
3) Store in a clean, dry place.
4) Avoid cleaning products with alcohol and avoid direct sunlight.
Getting the best out of your vibrator
1) Do not share sex toys with others, as this can be unhygienic.
2) Always use lubricant with sex toys
3) If the product becomes damaged, discontinue use.
4) Do not use massage oils, skin cream or other oil-based solutions instead of lubricant with sex toys.
5) Clean the product thoroughly after each use
6) Charge up the vibrator fully so that it's ready for action when you are
7) Improper use of this product will void any warranty offered on purchase.
Info
Material: ABS & Silicone
Working Time: 60-65 minutes
Charging Time: 50 minutes
Battery: DC3.7V 300mA

We hope you enjoy Rouge La Vie!