Date: 24 Apr 2020
Sex machines may look a little full-on and we wouldn't recommend them as anyone's first sex toy, but they can be an amazing addition to both couples and solo sex play.
This is our, not-so-scary, guide to sex machines and the way they can enhance your sex life.

Types of sex machine
Sex machines can be divided into two main categories - ride-on machines and thrusting machines. Both are popular for singles and couples and feature heavily in porn.
Which you choose depends on your personal preference for stimulation, how you intend to use and who you intend to use it with.
Ride-on sex machines
Designed to be straddled, ride-on sex machines are comprised of a base unit with attachable dildos for vaginal or anal penetration. The ultimate of these sexy rides is the Sybian, the original and we think, the best, of this style of machine.
Sybians are famed for their power and ability to deliver body-shaking orgasms in a way that no other machine does.
The magic of the Sybian, is down to the way that the dildos attachments rotate as well as vibrate. The rotation function circles the dildo in a way that ensures it creates sensations beyond the usual thrusting of vibrators and the mains powered vibrations make this ride to orgasm a unique and powerful one.
The power of the dildo is controlled by a simple, corded remote that lets users dial the power up and down until they achieve their orgasm.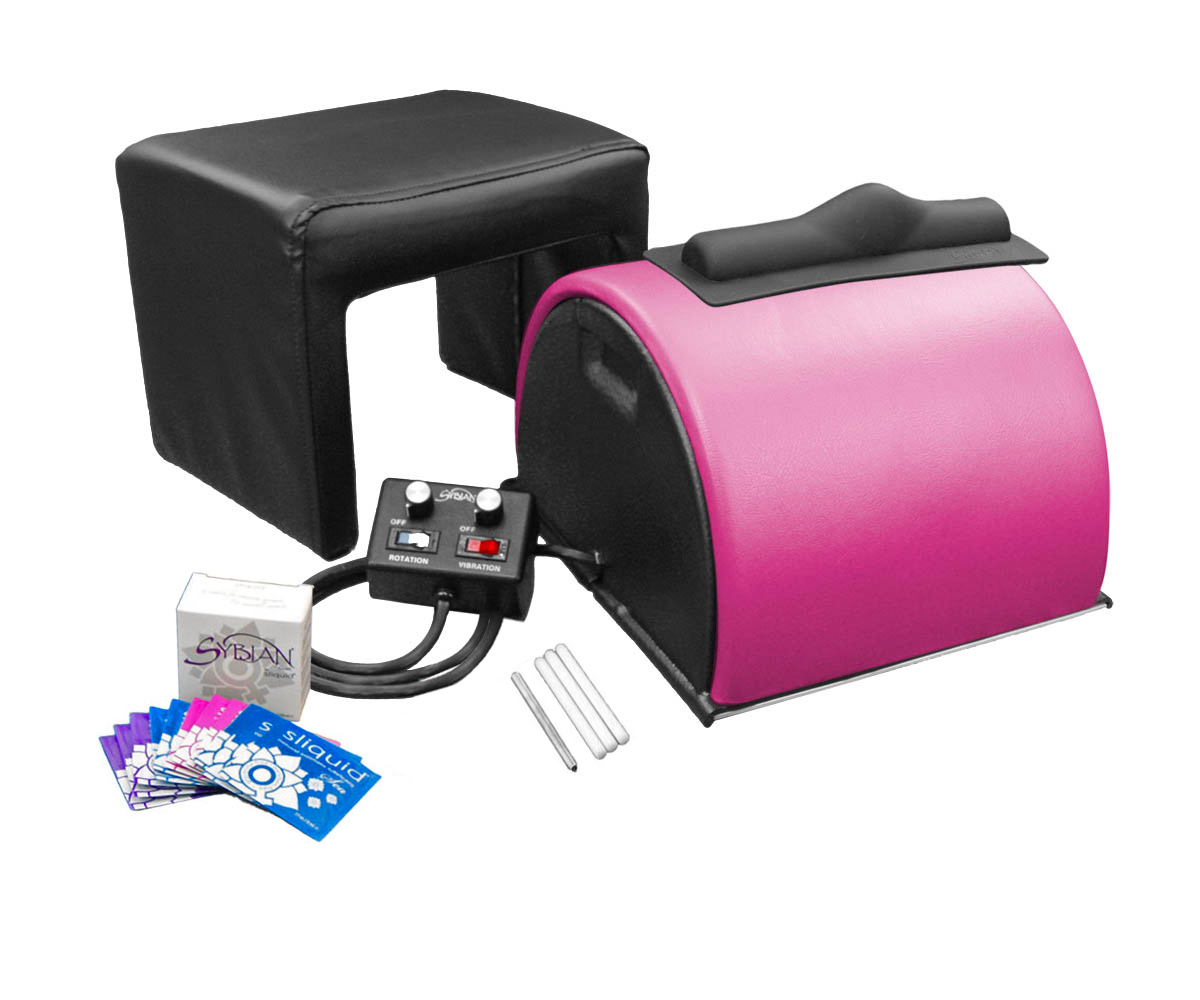 As well as the sheer throbbing power, what many users love about the Sybian is the feeling of being out of control. Where, with handheld dildos you are controlling the pace and location of the penetration, the Sybian simply takes over and powers you to pleasure.
Much beloved on porn sets and homes all over the world, Sybians are popular with couples who love to watch each other orgasm and for power role play, where one person can control the Sybian sending their partner into orgasmic wonderland.
If you don't have a partner or they're away from home, then the Sybian isn't so much a replacement for a sex partner than a completely-different-experience-of-sex.
Sybians do one thing and do it extremely well! They give their users amazing orgasms! Many users report their first g-spot orgasm or first experience of squirting when riding a Sybian. With more than 15 styles of attachments, all designed to give a different sensation from external only to double-penetration, the Sybian is versatile in its single orgasmic goal, and the "red risers" that slip under the attachments let users customise the level of clitoral contact.
The Sybian is right for you if you love penetrative, noisy sex. Your partner will love it if they love watching you squirm and shake in pleasure with no extra stimulation needed from them.
Thrusting sex machines
Thrusting sex machines are a very different beast to the ride-on styles like the Sybian.
Also popular in porn, these machines have a simple purpose - to fuck you non-stop until someone turns off the power.
We love the F-Machine Pro 3 which, like many other thrusting sex machines, is based on a frame, with an arm that attaches to a dildo that thrusts and thrusts. Being mains operated these fuck machines work on a simple thrusting principle with no additional vibrations or rotations. Suitable for both vaginal and anal penetration, the F-Machine Pro has a wider range of attachment options than ride-on machines like the Sybian as the dildo attachment mechanism is compatible with many of the popular dildo brands on the market, including the Vac-U-Lock range from Doc Johnson. You can also attach most other types of dildo using the USB attachment from F-Machine.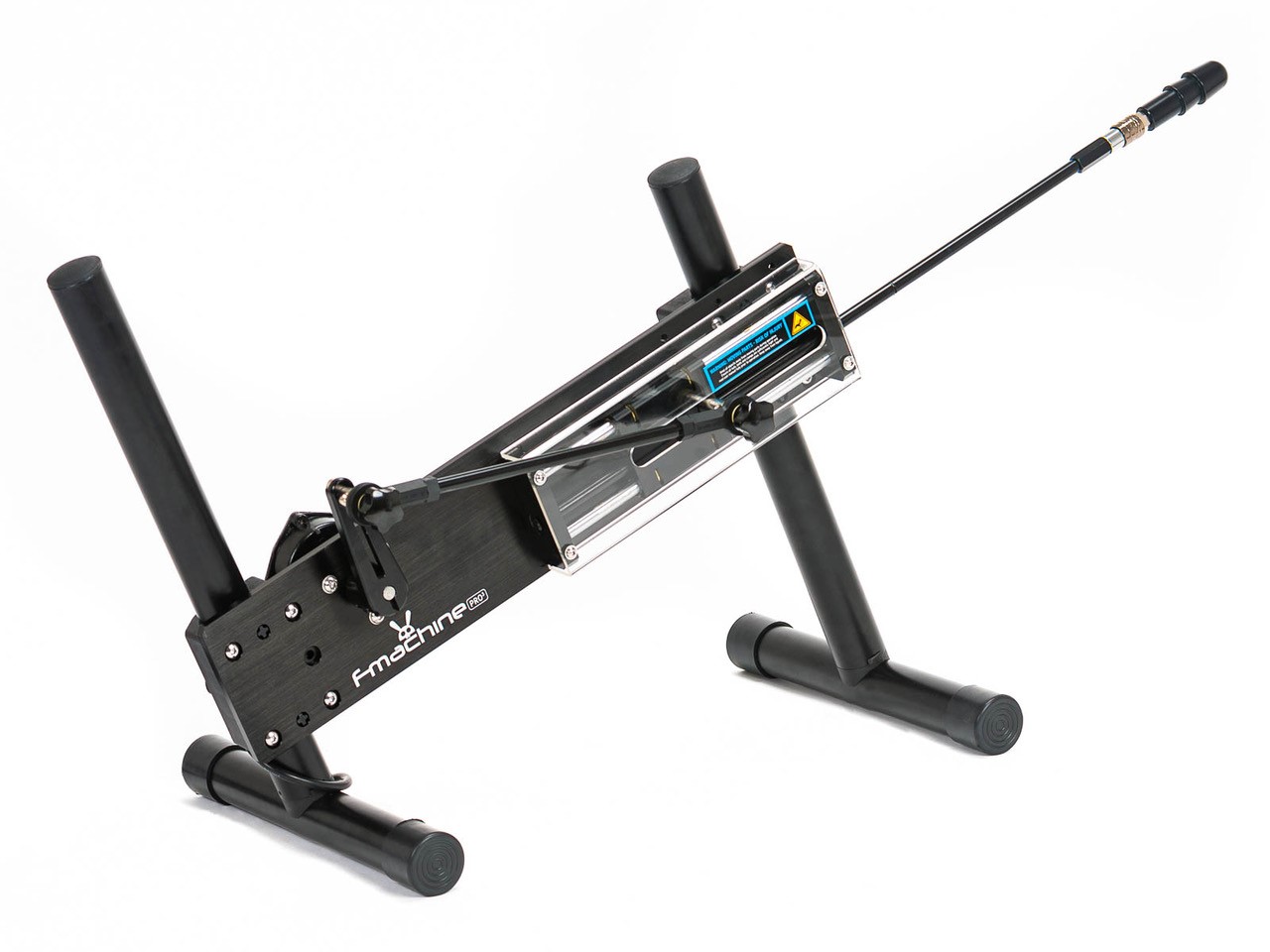 The F-Machine Pro 3 can be adjusted to different angles and heights which allows you to experiment with different positions and fantasies; from watching your partner being fucked doggy style to playing with double-penetration.
The adjustable speed and depth can be used to tease your partner with slow shallow strokes until they're begging for more or to thrust them into orgasmic bliss faster and harder than ever before.
Unlike the Sybian - which is a solid frame, the F-Machine Pro 3 folds away into a discreet carry case which can be stowed away in a cupboard or under the bed when not in use, and makes it suitable for taking away for a night of fun.
The F-Machine Pro is right for you if you love watching or being penetrated and is perfect to act as the second-penetrating cock in any multi-cock fantasy scenario you have.
If you enjoy S&M play, teasing or forced orgasm this is a toy that can help you perfect your wicked streak.
Getting to know your sex machine
When your sex machine arrives, it may be tempting to power it up and hop on for a ride, but we think you'll have a much better relationship with it if you get to know it first.
What to do when your sex-machine arrives;
Unpack the machine and check all the parts
Read the instructions and work out how the machine assembles
Assemble your machine
Get familiar with attaching your dildo of choice
Plugin and test the power supply and controls so that you're familiar with the machine's capabilities and quirks
What to do when you're ready to play with your fuck-machine for the first time
When you're ready to play make sure you've got lube, condoms and any other accessories to hand
Set up the machine and your chosen attachment
Position yourself and the machine and begin with the lowest setting to get used to the new sensation before increasing power as you desire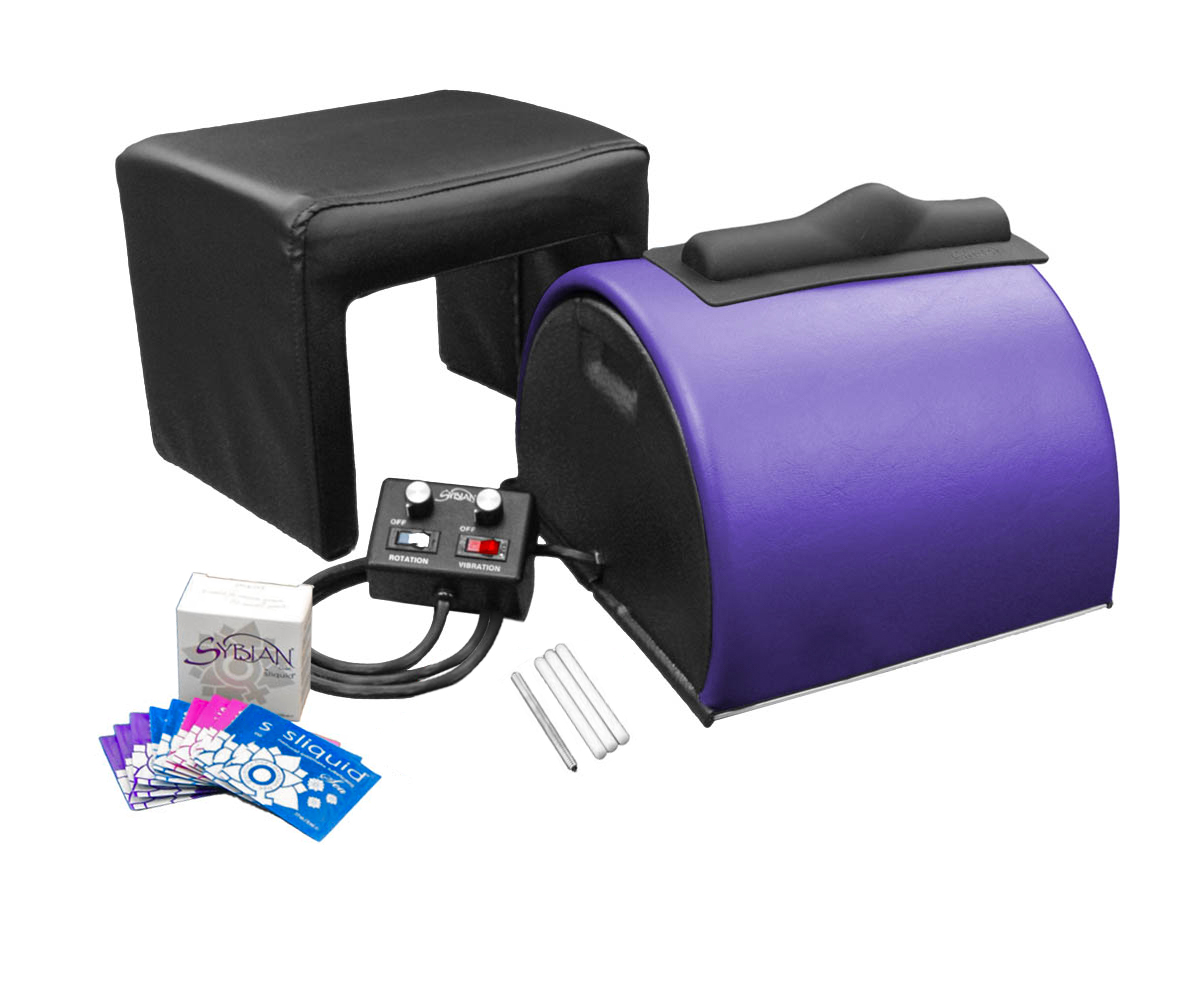 Using your sex machine with a partner
Although many people assume that a sex-machine replaces the need for a partner, many couples aspire to own a sex machine as an addition to their sex life.
For couples who want to explore voyeurism, cuckold or multi-cock play such as double-penetration or spit-roasting, buying a sex machine gives them a versatile, reliable and safe third partner.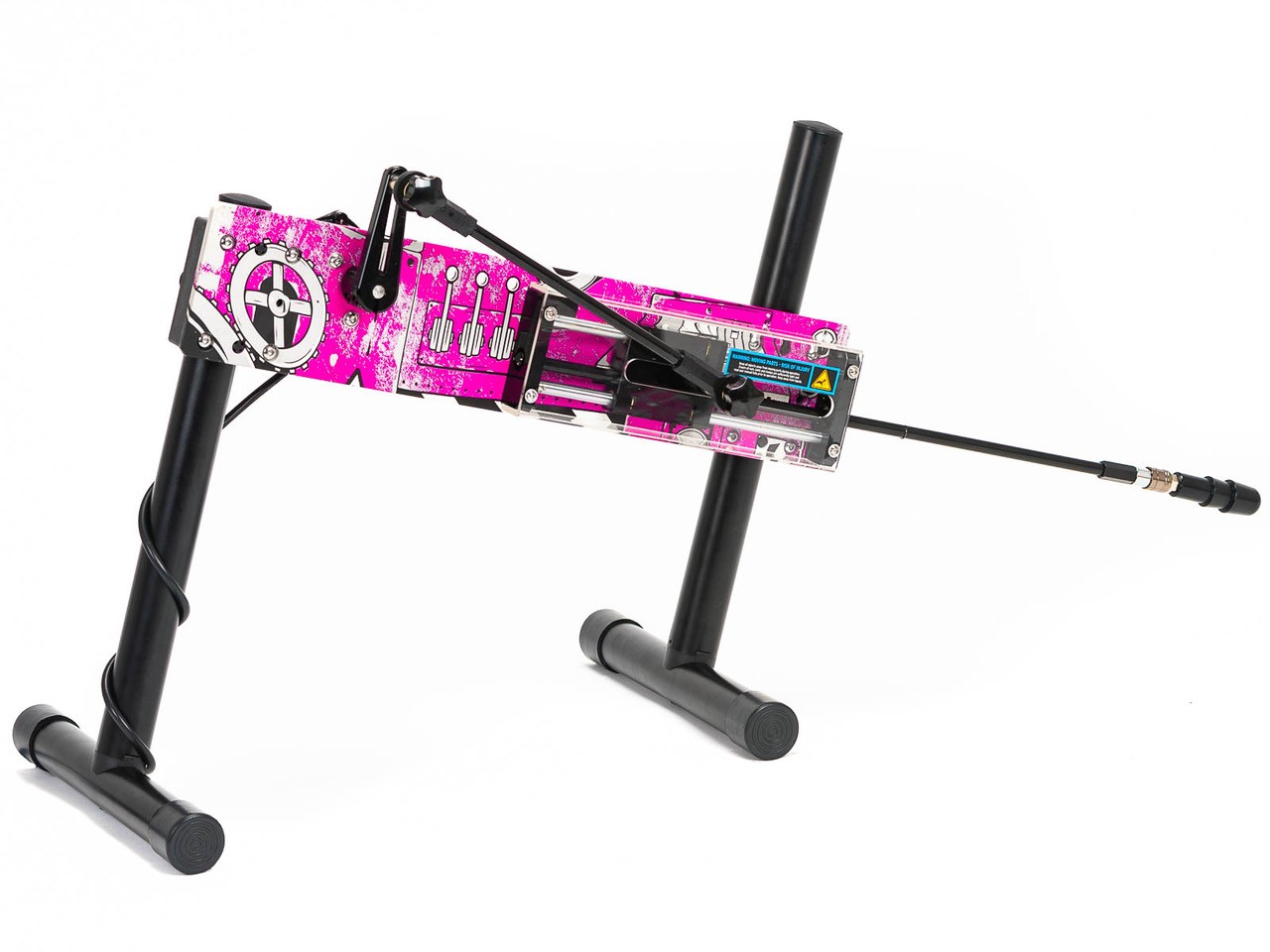 BDSM couples can explore control and forced orgasm with one partner controlling the power supply while the other submit to the machine's mechanical thrills.
When playing with your partner and your sex machine, make sure that you have clear communication about what will be happening, especially if one of you is restrained or gagged. Ensure that you have safe-words or signs and that boundaries are set and respected.
Using your sex-machine alone
If you don't have a regular sex partner your sex machine will give you the satisfaction of orgasmic penetration as and when you desire. You're completely in control of your experience and can explore different ways to play with your fuck-machine from slow and shallow to fast and deep - you can customise your experience to your preferences.
Don't forget the...LUBE!
Robots and fuck machines are excellent for the task of taking you to orgasmic highlights, but they're terrible at remembering to lube up. To keep things sliding smoothly make sure you or your partner has plenty of lube at the ready throughout your sexy session.
What does it feel like to get fucked by a sex machine?
If you're feeling inspired by the thought of robo-sex sessions and want to read some first- hand experiences to find out what it really feels like to be fucked by a sex machine, we recommend Girl on the Net's blog "Spitroast with a fucking machine" about using the F-machine Pro with her partner. It is definitely not safe for work and is absolutely one of the hottest things we've read in a long time!
Meanwhile, if the Sybian has caught your imagination, our very own Violet Fenn tested one out for The Metro and asked the question "Is this the most intense sex toy in the world?"
Post comment